Judith Sapperstein & Gary Murway
Every once in awhile two creative people get together and… SPARKS FLY!!!
That's just what happens when Judith Sapperstein and Gary Murway are involved.  It's really fun to watch as an idea pops up between them and a creative work is born as they think out of each other's heads.  It's really hard to know where one stops and the other begins.  And, next thing you know?… There are all sorts of fictional people acting, singing, and dancing around all over the place until we see the written words… "The End".
That's when the work takes to the stage and audiences everywhere get to enjoy the result.
Judith started her theater career in 1981 at the Keswick Theater (A 1300 seat proscenium stage theater).  While at the Keswick, her favorite roll on stage was that of "Mama Rose" in "GYPSY".  In addition to acting, Judith has Produced, Directed and was even called upon by the Musical Director to co-write a musical called "By George", which told the story of the life of George Gershwin.  This show was extremely successful in that it was SRO for two nights (1300 seats) and nearly filled the theater for the balance of the performances.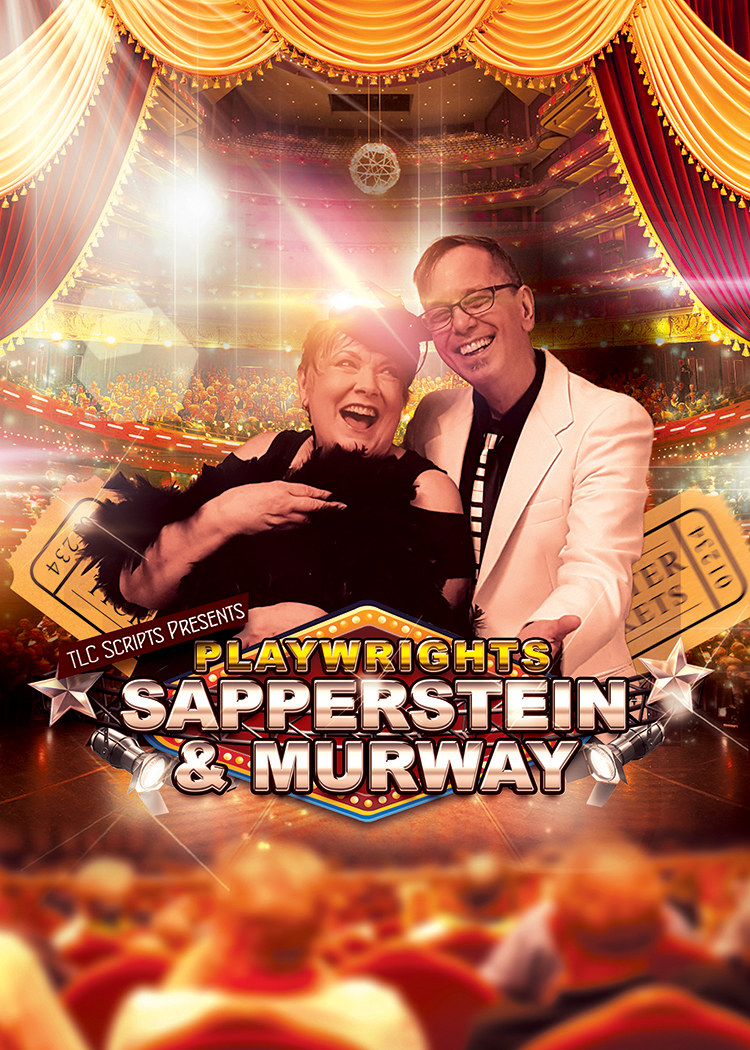 Gary has been a professional musician since 1964.  He started out in New York and grew to working at such places as "Tavern on the Green", "Hotel Pierre", "The Plaza Hotel", and "The Waldorf".  He's worked with National Band Leaders such as "Myer and Emery Davis", "Peter Duchin", and "Lester Lanin", to name a few.  Gary also had the opportunity to work as back-up musician for "The Drifters", "The Times", "The Dovells", "The Crystals", "The Shirelles", "Leslie Uggams", "Tom Sullivan" and more. 
Over the years, Gary performed for thousands of people all across the country in lots of venues including nightclubs and television.  He's even performed at Steel Pier and the Franklin Institute.  Additionally, he's worked as recording side man on guitar and bass for major studios such as Columbia, Associated, Electric Lady Land, Belle, Ultrasonic, and Sigma Sound.
Judith and Gary met in 1980 and started their own recording studio where they wrote and recorded audio commercials and even developed, co-produced, directed, and wrote all the music for an audio exercise program for a client located in Bucks County, PA.  It was at this time that they began writing music together.
In 2007, Judith and Gary decided to pool their broad-ranged and well-earned talents and experiences and began writing their catalog of Plays and Musicals.  Their inspiration to write new works is on-going and, therefore, their catalog is continually growing. 
Their works have been performed in theaters throughout the US and have since gone international.
Check out our Catalog of Works


Plays
Find plays that are fun to perform and exciting to watch.

Musicals
Find original musicals that will delight your audience.


Comedies
Comedic works for when you want to make them laugh.

Dramas
Dramatic works when you want to touch emotions.

Murder Mysteries
Everyone loves a good Murder Mystery be it dramatic or comedic.

Great for Kids
Plays written for young audiences and/or young performers.

Historical
Works steeped in or about historical people, times, places or events.

Holiday/Seasonal
About or including a specific holiday or time of year to suit a specific season or month.

License A Work Today
You can license any of our works, right here from our website, check it out.